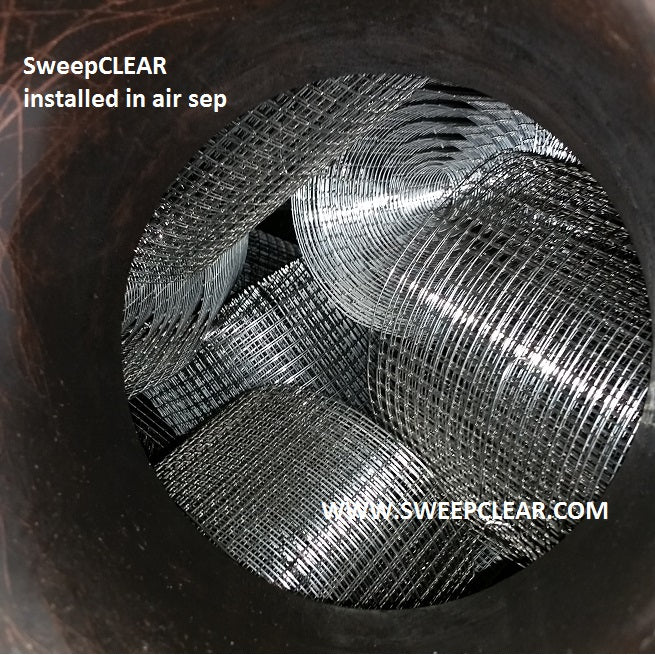 SweepCLEAR®

Media

Using an innovative patented technology, SweepCLEAR® combines two 50-year-old technologies: a Tangential Air Separator and a Coalescing Air & Dirt Separator media. The result? The highest performing air and dirt separator available at the lowest price.

Just insert SweepCLEAR "Coalescing" Fine SS Wire Mesh Media Coils into an existing Air Separator to create a low-cost, high-performance air & dirt Separator.

Not only is it easy and affordable to retrofit, SweepCLEAR® works great on hot, cold and condensed water systems.
SweepCLEAR®

is Simply Better

SweepCLEAR now has a Patent No. 10,035,153. The demo shows how quickly and economically our media will allow a standard tangential air separator to remove 99% of the air and dirt in the HVAC hydronic system, STOPPING CORROSION & FOULING!
Features

& Benefits
Remove Microscopic Air & Dirt Particles

STOP PIPE CORROSION & FOULING

IMPROVE SYSTEM EFFICIENCY by 10% or MORE

Minimal Increase in Pressure Drop, 2' max at 12 fps

Media is PERMANENT & Virtually Maintenance Free

Works on HOT, CHILLED & CONDENSER Water Systems